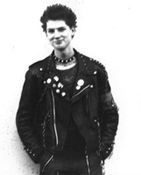 Drummer Steve Pegrum was born in Southend-on-Sea and spent his formative years within its embrace. Growing up through the Glam years, the records of David Bowie, T-Rex, The Sweet and Alice Cooper made a huge impact on a young Steve, and when Punk hit it truly inspired him to pick up a pair of drum sticks and form a band. "A key Drummer whom really inspired me was Jerry Nolan of The New York Dolls / Heartbreakers - l loved his playing so much - musical, rhythmical, powerful and direct". Steve played in several local punk bands before forming (just as he was leaving school) The Kronstadt Uprising.

"I loved the energy, style and DIY ethos of Punk", said Steve, "It felt completely natural to want to be involved and to try and put my own outfit together". It was with the aforementioned Kronstadt Uprising that Steve really got playing, as the band undertook numerous recordings, releasing a couple of 7" Singles in the process, and played numerous gigs in their time together. Like so many bands of their era, line up problems plagued them however, and in the late-'80s the band called it a day. Earlier in the decade Steve had also played with local band The Sinyx, again playing many shows in the region and expanding his musical palette, with the band eventually splitting by the middle of the decade.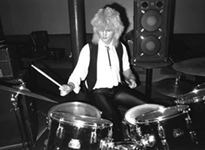 An exciting paradigm shift occurred around this time too, as Steve said: "In about 1983, there seemed such a fantastic upsurge in killer, blitzkrieg Rock 'n' Roll, fired up and inspired by Punk, but with it's own take on things, and these artists really re-inspired me", said Steve. " I remember going to see The Lords of The New Church, Hanoi Rocks and especially my main inspiration, Johnny Thunders, many times in that period, the Sunday nights at The Lyceum in London being particularly memorable. They really were magical events". Combined with the re-emergence of another of Steve's heroes, The Ramones, this new energy took Steve back to his musical roots and together with his friend Stuart they started putting together a new band, based in London, where Steve now lived. By 1990 things came together, and with a slight line up change, The Ghosts of Lovers came into being, where Steve met his main musical soul mate and close friend of the period, Lead Guitarist Guy Bourseau.

Steve and Guy were fired by everything from their Glam and Punk roots, through The New York Dolls to Mott The Hoople / Ian Hunter, The Stones to The Stooges, Social Distortion to The Only Ones, and, under the name The Ghosts of Lovers were to write many songs that began to encapsulate their aesthetic visions. The band released a flexi disc of one of their key songs - 'Iona' - in conjunction with Submerge fanzine, but sadly spilt after only a couple of years together. Steve and Guy would then spend the rest of the decade playing in The Hearts of Darkness, helping out other bands and continuing on their musical path. Steve had also started DJing in the '80s under an alter ego and would continue to do so in the 1990s, eventually running Station to Station, first at The Soho Theatre Club, then for two years at The St Moritz down Wardour Street.
Taking a break from things in the late 1990's / early 21st Century, Steve embarked on several protracted periods of travelling, seeking inspiration and truth in such places as Guatemala, Belize, Sri Lanka, Vietnam, Cambodia, Laos and Myanmar. Suitably re-inspired and re-anaimated by his travels and a reawakened desire to get playing again, Steve got together with his ex-KU band mate Kevin de Groot and together they recorded some demos of Steve's 'lost' songs, including 'The Last Bullet', (partly as tribute to Guy whom had sadly passed away in 1998). This then led to a series of electrifying jams with Steve, Kev and Bass Player Ab, that has led to Steve playing in genre-defying Rockers LSNB. Simultaneously, through pursuit of his web design (and the creation of Southend Punk.com) Steve came into contact with Nick Paul, and together with Bass Player Steve Reddihough, the trio started to play together, songs such as 'True Life', 'Evening Radio', 'Everythings Technical' etc. This led to them being offered a gig to support the launch of a CD featuring two rare Machines songs, which transpired on Sept 10th, 2006 at The Boston Arms in London.

The band really started to gel after this, and in early 2007 they played several shows, simultaneously writing new songs such as 'Girl in Black' as well as blitzing old Machines songs like 'You Better Hear' and 'Parents Zone'. They recorded two live Promo EPs with minimal overdubs in the summer, recorded by Machines friend Barry, whom managed to capture the bands energy and sound well. After a brilliant gig with Detroit, USA Punk Rock 'n' Roll legends Choking Susan at Bar Monsta in Camden, London, The Machines took a brief break before regrouping for a small Winter tour that took the band into 2008.


The Machines plan for 2008 was to play out as much as possible, and this was achieved with some great Spring Dates, followed by a Summer blitzkrieg. The band managed to get further afield than before, and blasted out their songs everywhere from Brighton to Southend via London, Bedford, Trimley, Windsor and beyond. The summer culminated in a great show at Chinnerys in the bands hometown, and just two weeks before The Machines also received a fantastic welcome at the Rebellion Festival in Blackpool. 'I was really pleased with our set at Rebellion, and the engineer for our stage did a great job. It was inspiring getting all the positive feedback from the crowd and it's definitely one of the best gigs to date.' After this show, the band have been concentrating on honing more new material, and hopefully a CD will see the light of day soon.
In Steves own words: "Pretty much every band that I have played in has had Punk / Rock and Roll as its abiding life-force, and this will forever be the case. To this day if I had to sum that all up in one song it would be 'Search and Destroy' by Iggy and The Stooges. That song contains the very essence of Rock and Roll, completely and perfectly encapsulating it's energy, melody, love, raw power and soul enhancing properties. It is Rock and Roll'.